Well day 4 of Social Media Week is an unusual guest blog, as it's not really a guest blog at all but more of me sharing information about another Twitter account I run, this is a lessoned learned account about my dogs twitter account (@SullyGSD), bear with me …. I promise it's useful and worth a read!
A LITTLE BIT OF HISTORY
Anyone who knows my hubby and me knows we don't have traditional children and we are more than happy about that.
We have 4 legged hairy animal children!! Our first – a temperamental (sometimes referred to as ferrel as she's a good hunter …. How rude!!) 5 year old moggy called Star.
Our second a boisterous, slightly daft and we're sure immune to pain, nearly 3 year old German shepherd called Sully. Sully has his own twitter account.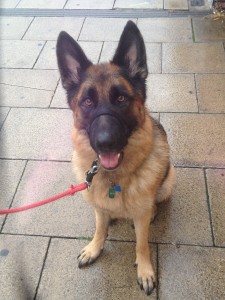 A few months back my brother and I were doing the usual sibling rivalry discussions and I was chatting away about Twitter and what I believed were a few good starting points for any Twitter account. In true sibling form he told me I didn't know what I was on about (Charming!!) and then the challenge was set – could the basic transferable starting points on Twitter I believed in so much gain Sully more followers than my brothers Twitter account …… We shall see.
MY 5 BASIC TRANSFERABLE TWITTER HINTS
During these explanations I will say he (implying Sully) – I obviously mean me! …. Having an account for a dog implies I'm already a bit daft sometimes, daft seems to be my friends and families "go-to" word when describing Sully's Twitter account – I personally prefer creative and boundary challenging but hey ho!
1) Be consistent – Sully doesn't tweet often and his followers don't expect him to, a minimum of 1 tweet a day a maximum of 5. However he does tweet about the same topics. His walks, his on-off relationship with the cat, his favourite toys, the daft things his daft humans (dog talk!!!) make him do. He does not have political opinions, he does not lie (no pretend job for Sully) and he doesn't RT information that is not linked to him or animals in general.
2) Be polite & inquisitive – Sully says thank you for Retweet's (RT's) and when people follow him. He always replies to fellow animal chatter and gets involved in #followfriday (#ff) regularly. He asks questions of his existing followers (what breed are you, how old are you, how's your day been, had any good leftover recently) and he gets involved in discussions about how daft other animal's humans are.
3) Have a personality! Sully is amusing, he's rather daft and a pretty boisterous – this is shown through his tweets. When he does something silly or amusing, he tweets about it. He's not fact telling or preaching about how fabulous he is, he's solely showing his personality.
4) Connect with like minded people – Where is the value or reasoning for Sullys account to following news channels or celebrities (for example) – the account will gain nothing from it. Sully follows other animals, cats, parrots, other dogs, people who love dogs and animals passionate owners. This creates the interaction that social networks are all about!
5) Provide value! For me this is the most important one! Animal people like animal pictures, they like funny animal moments – something to make them smile. I get the most interaction on Sullys account when I post a photo (value to his followers). When someone connects with Sully I send them one his unbelievable adorable photos (slightly biased but hey ho!) and say hello. The feedback from this has been positive and keeps Sullys account interactive and being shared.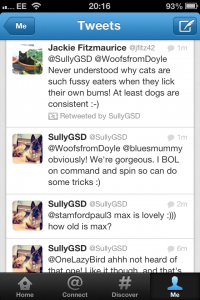 Some examples of Sullys tweets

"GO ON THEN – LINK THIS TO BUSINESS!" I hear you say … I will these basic hints will work for your businesses Twitter account – they are transferable skills and transferable hints (my point all those months back !!)
Use them, look at your Twitter account – are your tweets consistent? Do your followers know what they will receive by following you? Are you talking about Accountancy every tweet for 2 months but then spend an entire evening during Eurovision tweeting about the show when you don't normally say anything personal – inconsistent and confusing for the viewer. (Before anyone asks I am not saying don't discuss anything personal (*Remember have personality*) I am saying be consistent with the split between personal and business tweets if this is what you plan to do with your account)
Consider what you're tweeting and if its gaining you interactive followers. Are you asking questions or are you waiting for people to speak to you – how social are you being on your account?
Are you following people that will enhance your Twitter experience or are you waiting for the day Lady Gaga sees your account, refollows you and RTs your information to her millions of followers and your new millions of customers? Do you have a one sided Twitter relationship? If so you're quite possibly not connecting with people and are solely following. If you're gaining information and are happy then thats fine. If you're not, maybe consider who your account follows.
And finally provide value – what's the difference between your account to the other millions of Twitter accounts available to follow? Is it your content, your photos, your questions, your wit, your personality, your hints or something else? What's the benefit of your account for your follower?
SO WHO WON I HEAR YOU ASK
Do you need to ask???? …… Sully !!!!!!! He currently has over 550 followers and (depending what time I / Sully gets to tweet!) these are growing each day.
My brother continued on his own Twitter path tweeting about his day & writing bits and bobs about sport, more of a viewer on Twitter than a writer. He has over 70 followers, will still not follow the dog's account, declares my social experiment "daft" and states "that he didn't really care anyway" – sibling relationships are good ones aren't they!!
Truth be told as silly as it may seem as it is it has helped me clarify what works and what doesn't as this is my tweeting playground
WHAT ARE YOUR HINTS AND TIPS FOR YOUR TWITTER ACCOUNT – PLEASE FEEL FREE TO SHARE
For much more information about Twitter and how you can use it for your business please get in touch
Image courtesy of renjith krishnan / FreeDigitalPhotos.net